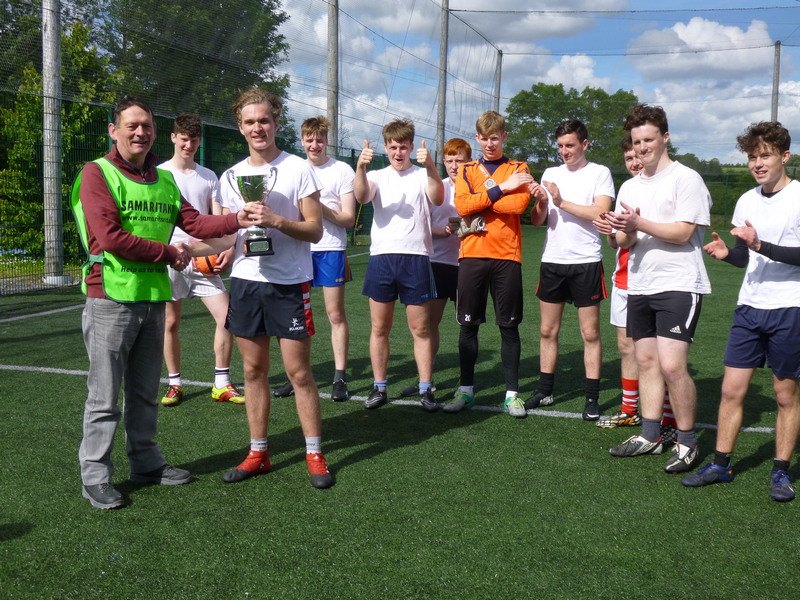 The tenth annual Iniscealtra Community competition saw Chops FC win the cup for the first time. This year's event was the closest so far, with all teams winning and losing at least one game, and often the finest of margins decided the outcome and qualification for the knockout stage. In the end, however, the final saw the team with the best record in the group stage play the team that had scored the most goals in the group stage, so they definitely deserved to be there.
This event was part of the Mounshannon Arts Festival, and this year's festival theme of "From Home" was certainly reflected in the multicultural nature of the tournament. There were players from several nations, and cultural backgrounds, all playing together (the Mixed Bag team alone had six different nationalities within its ranks!).
All proceeds went to charity, and a total of €1100 was raised for Ennis and Clare Samaritans to help fund their invaluable work. (See samaritans.org/branches/samaritans-ennis-and-clare)
Group 1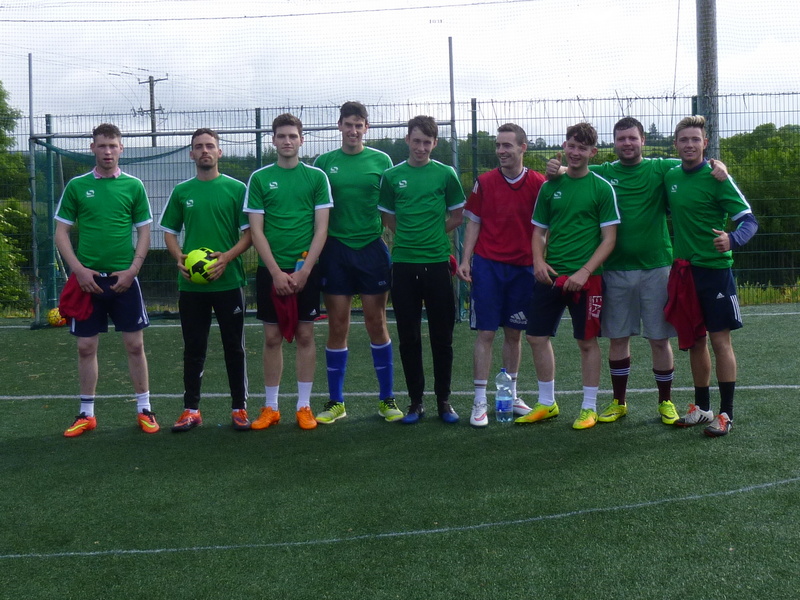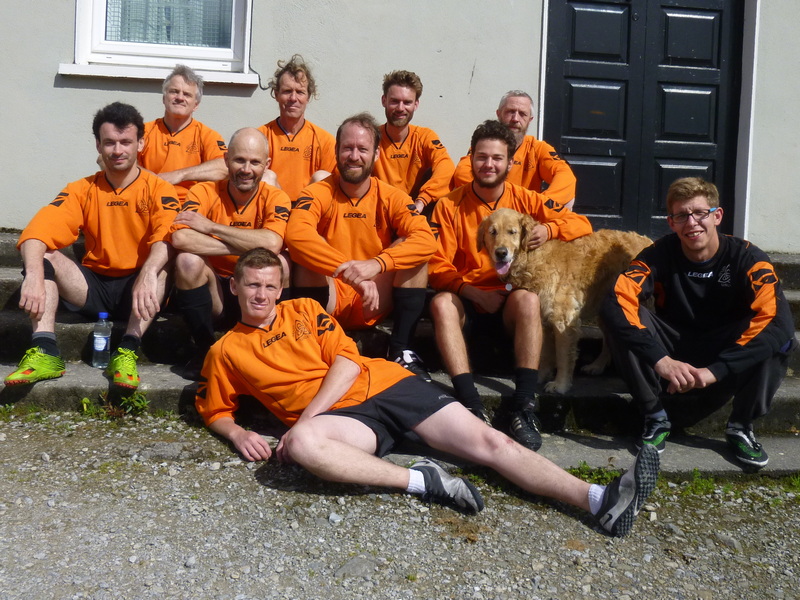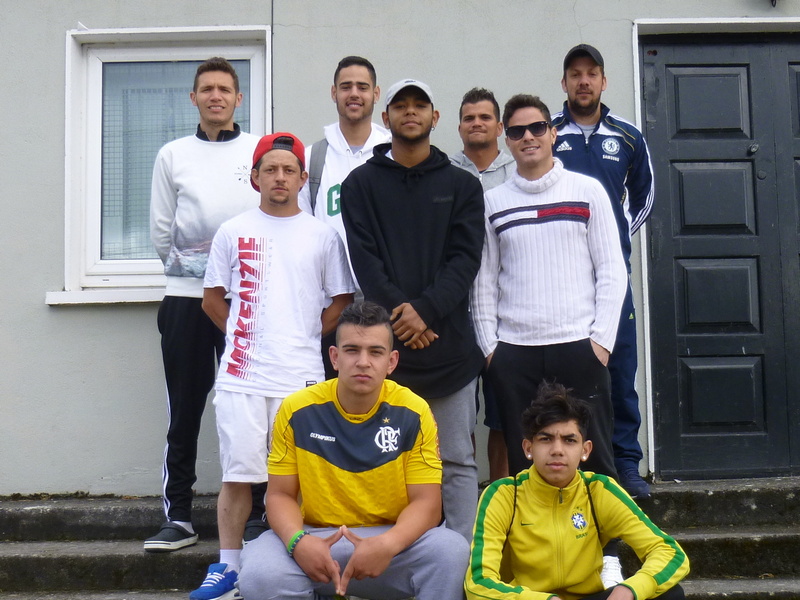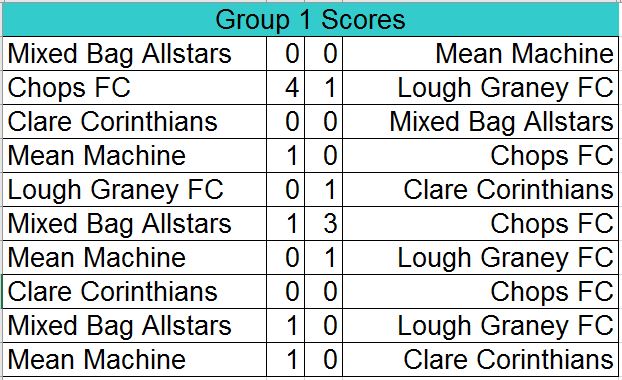 The morning group saw many close games with few chances taken, with three goalless draws, and five games finishing 1-0. Regulars Mixed Bag Allstars had lost their main striker before the tournament, and the lack of goals proved to be their undoing (though they were unlucky not to be given a goal, which seemed to have crossed the line, in one key match). Clare Corinthians brought skill and flair, but also lacked that cutting edge, and the lack of goals saw them eliminated (during their final game they found themselves a goal down, needing just a draw to proceed to the semi finals… they created some chances but just couldn't get the goal.) Lough Graney FC battled hard throughout, recording one good victory, but a heavy defeat in one game proved costly, leaving them needing to win their final game by four clear goals to have any chance of progressing. This proved a task too far. Newcomers Mean Machine had notched up one win, a defeat and a draw in their opening three games, scoring and conceding only one goal on the way, and their final group game found them needing a victory to progress. This looked like being a low-scoring close affair – as indeed it was – and the single goal they scored proved enough to see them through. Chops FC were the only team in the morning group who seemed have brought their goal-scoring Mojo with them, and they finished with a healthy goal difference due to their seven goals scored. This gave them the edge and they finished top of the group on goal difference.
Group 2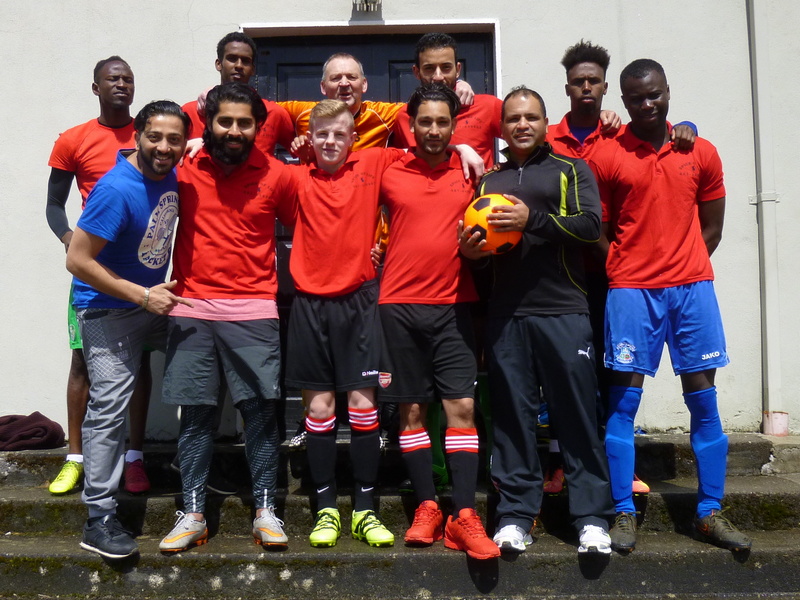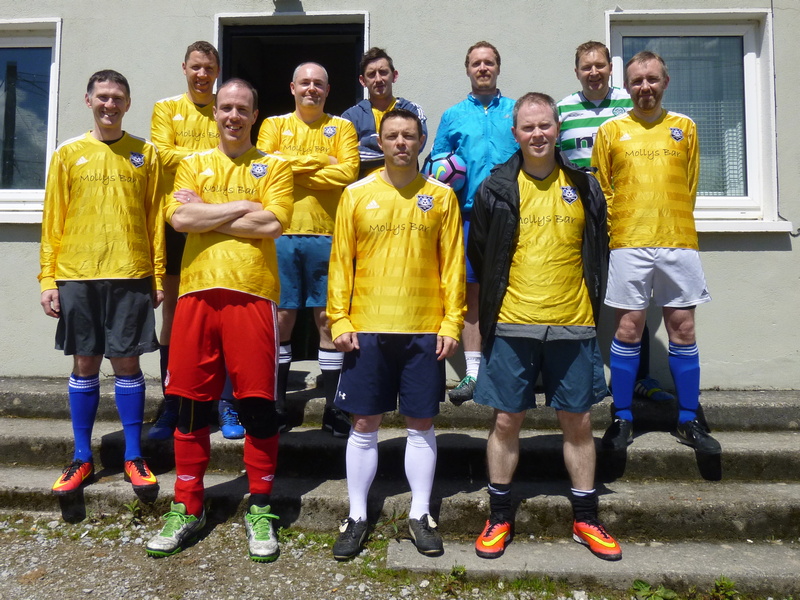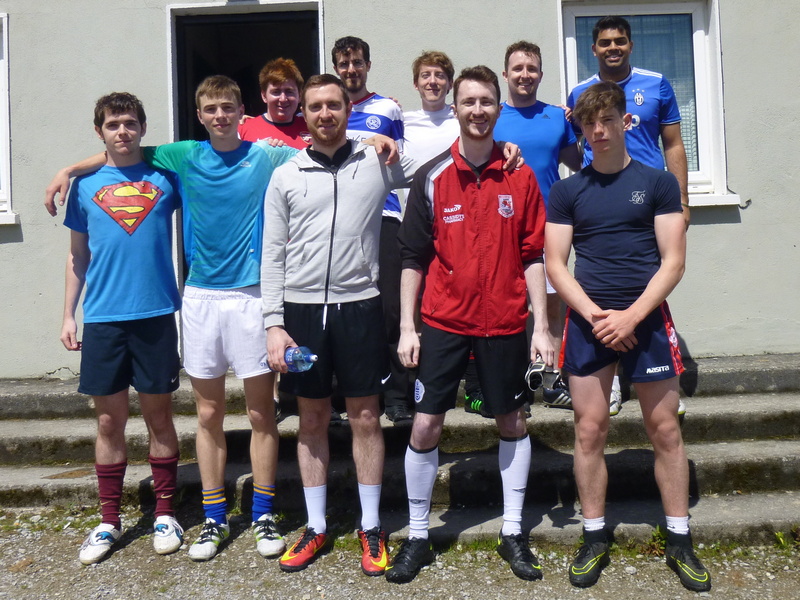 The afternoon group was more open than the morning group, with more clear victories and only one draw. Ballina Boys, welcomed back after a one year absence, had a poor start, losing their opening two games. This left them with an uphill struggle to make it through to the semi finals, and their one victory wasn't enough. That one victory was against Sean Bean Sex Machine, who's own hopes were severely dented by the result – victory in that game would have given the Machine real hope of progressing, having notched up a good victory in their previous game. Instead their hopes were left hanging on a thread, and by the time they played their last group game they were left needing a big win to have any hope… a win that didn't come. Defending champions Bantasaurus Rekt had won one, lost one and drawn one after three games in the group, having shown only glimpses of their previous years' dominance. Their final match saw them needing a good victory, and at 2-0 they found themselves needing one more goal. Try as they may, creating several chances, they couldn't get the goal they needed. Thus they were eliminated, having the same points and goal difference as the team in second place, but having scored fewer goals. Margins in a league don't get any tighter! The team finishing second were Unrael Madrid, new to the tournament. They were impressive from the outset, showing great experience. Having won their opening two matches they were odds-on favourites to progress, and thus it proved. However, the single point from their final two games saw them finish second – and as detailed above they were left biting their nails hoping Bantasaurus wouldn't get the goal that would have seen Unrael go out. Last year's finalists Spice of Life Boys looked good throughout the day, winning more games in open play than any other team. They ended up worthy winners of the group, though their final group match saw them start in third place needing a victory (a draw would have seen them catch up on points with two other teams but with an inferior goal difference). (Credit should go to Spice of Life Boys, as most of their team were fasting all through daylight hours in observance of the holy month of Ramadan. Fair play to you lads.)
The first semi final was a close encounter between two teams determined not to concede. There were few clear cut chances in the game, and it finished scoreless. Thus a penalty shoot out was required to determine who would progress. Both keepers did well, making impressive saves, but Chops FC prevailed and Unrael Madrid had to make way. The second semi final saw concerted pressure from Spice of Life and an impressive rear guard effort from Mean Machine. The game looked to be heading towards penalties, but a late Spice of Life goal proved to be decisive.
The final was eagerly contested, and both teams gave good accounts of themselves. Spice of Life Boys took the lead about half way through the match, and Chops doubled their efforts to try and get back in the game. A well-struck Chops shot – one of many late in the game – found its way into the back of the net, and so the game ended a draw. In the penalty shoot out decider both teams kept scoring, and it was only in sudden death that the first save was made. This proved decisive as the next kick was netted and Chops were crowned champions.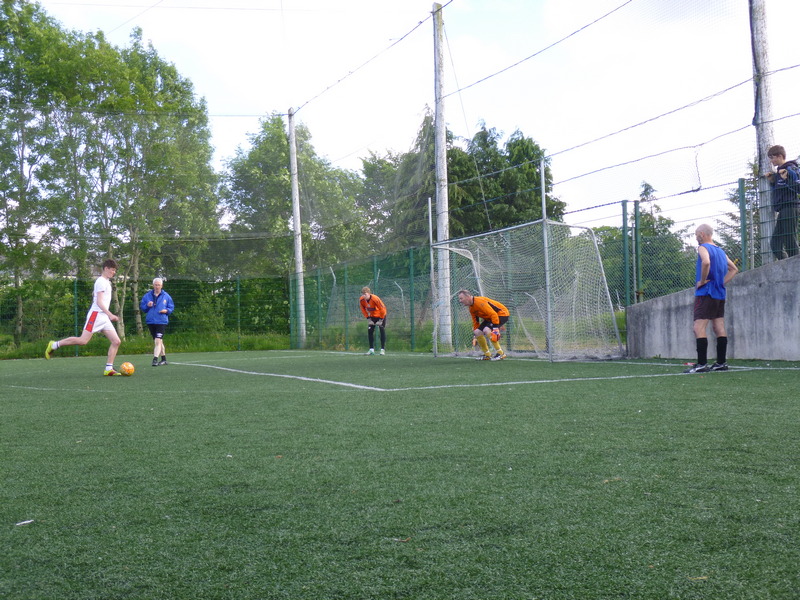 Acknowledgements
This enjoyable charity event could not have happened without several key contributions. Sincerest thanks go to:
Scarriff GAA Club for providing the venue.
Referees Clive and Julian.
Fiona, for handling the admin on the day.
Mike and Eamonn, and others, for fetching balls kicked out.
Tina and Brooke for the photography.
The Red Cross, for their expert medical care.
…and of course all the players who made the event such a lively and enjoyable one! See you next year…