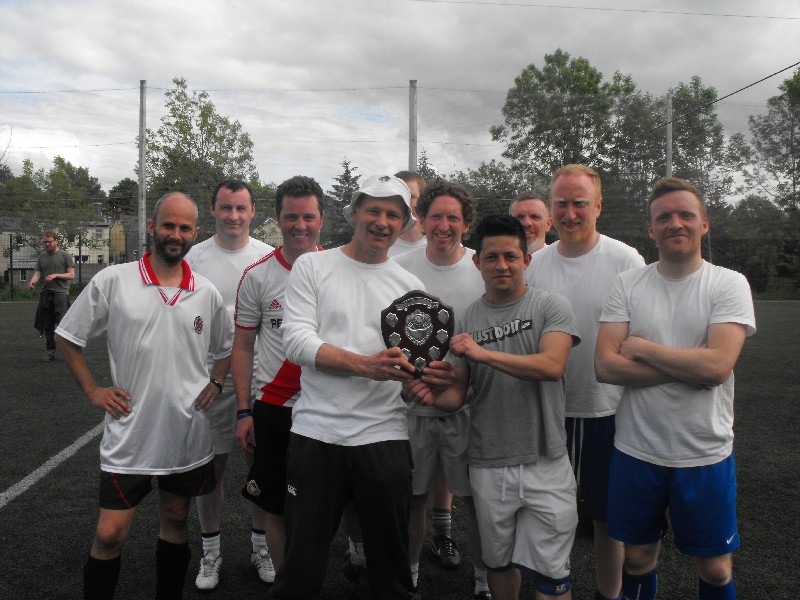 This year's tournament – the seventh thus far – was certainly of the highest standard yet, with nearly all the games being decided by narrow margins. All nine teams gave a good account of themselves, but in the end experience won out and Clare Corinthians demonstrated what it takes… and so reclaimed the Iniscealtra Community Shield.
The event was a charity fundraiser for Ennis and Clare Samaritans, and €1060 was donated to them to help in their invaluable work.
Group 1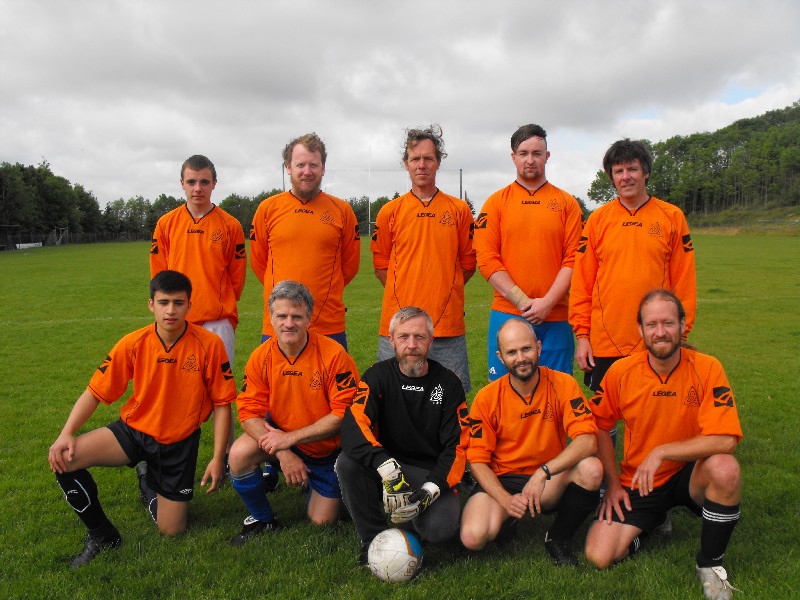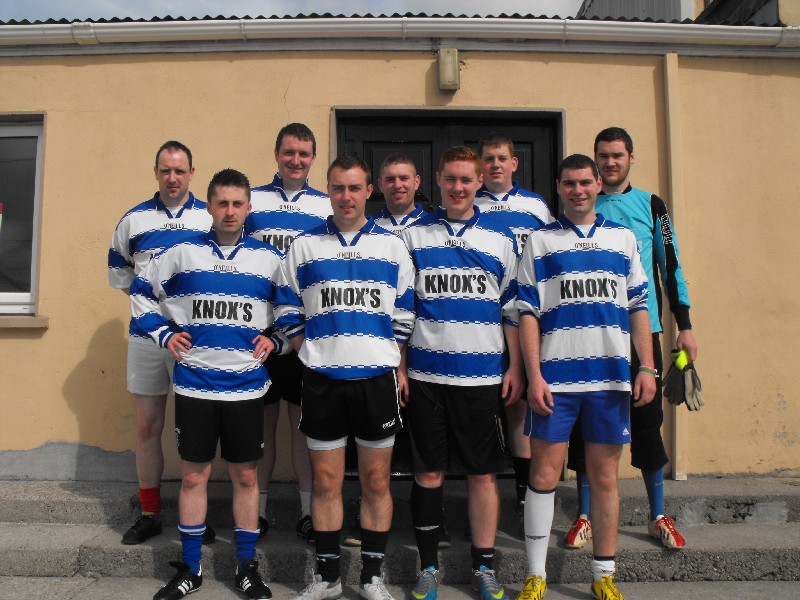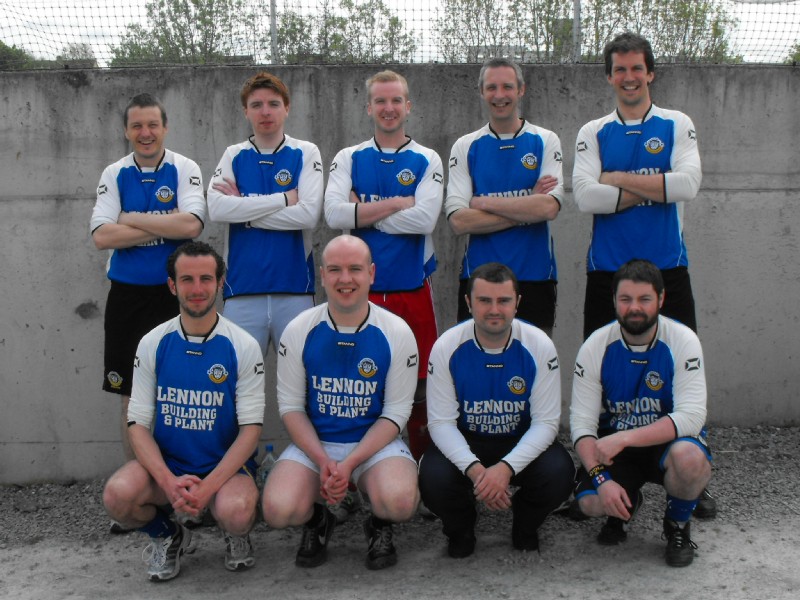 There were four teams in the morning group, and the first two rounds of games were very tight. Events started at pace, with two previous finalists facing each other. Slippery Chickens, last year's finalists, had a strong line up and they faced an equally strong East Clare Patriots. Evenly matched, they played out a draw. Following this Barefield Bandits – newcomers to the tournament – took on Mixed Bag Dynamos. The Bandits were the stronger side, but they found it difficult to breach the stout Mixed Bag defence. In the end though the goal came, and the Bandits won 1-0. Mixed Bag were back on straight away as they faced the Patriots. The game was similar to the preceding one, and had the same outcome, with Mixed Bag losing 1-0. This made it impossible for them to qualify for the latter stages. The following match saw a hard fought match between Slippery Chickens and Barefield Bandits. Neither side could break the deadlock and the match ended scoreless.
The final round of games began with East Clare Patriots continuing their winning run as they played out a 1-0 victory over Barefield Bandits. This meant the Patriots topped the group. The final game, then, would determine who would finish second. If Slippery Chickens won they would progress, but any other outcome would be enough for Barefield Bandits to go through. Slippery Chickens faced Mixed Bag Dynamos, and as the two teams know each other well it made for an interesting encounter. Scoring quickly the Chickens looked to be in a strong position, but a quick equaliser by the Dynamos – cheered on by the Bandits – changed the dynamic once more. Not to be denied, though, the quality of Slippery Chickens – with some fine individual performances – showed and they soon reasserted themselves, ending up clear winners. It was a spirited display by Mixed Bag, and a good showing from Barefield Bandits, but both teams would play no further part in the tournament.
Group 1 Scores

Slippery Chickens

1

1

East Clare Patriots

Mixed Bag Dynamos

0

1

Barefield Bandits

East Clare Patriots

1

0

Mixed Bag Dynamos

Slippery Chickens

0

0

Barefield Bandits

East Clare Patriots

1

0

Barefield Bandits

Slippery Chickens

4

2

Mixed Bag Dynamos
Group 1 League Table

Pos
Teams
Pl
W
D
L
GF
GA
GD
Pnts

1

East Clare Patriots

3

2

1

0

3

1

2

7

2

Slippery Chickens

3

1

2

0

5

3

2

5

3

Barefield Bandits

3

1

1

1

1

1

0

4

4

Mixed Bag Dynamos

3

0

0

3

2

6

-4

0
Group 2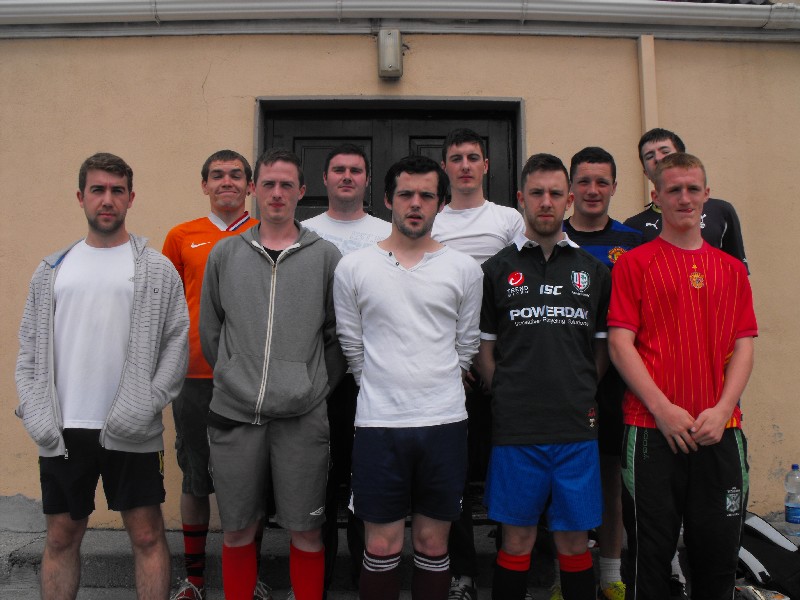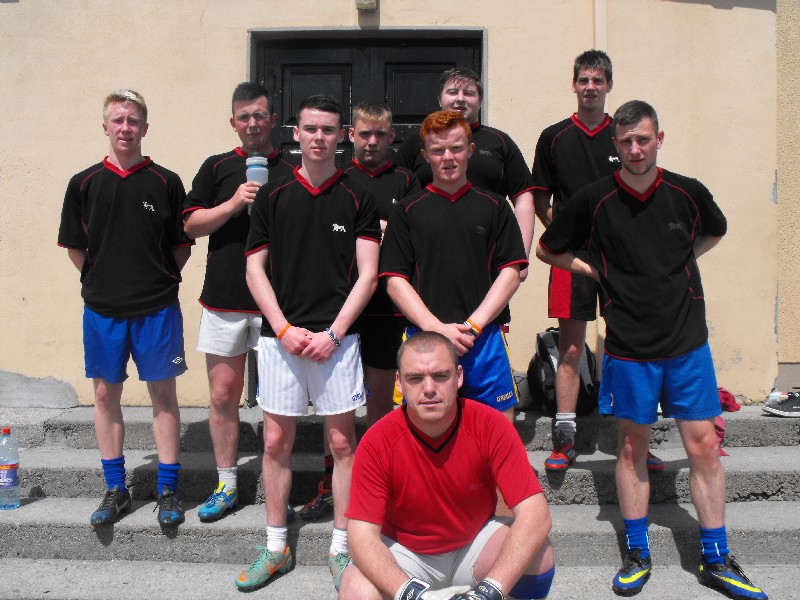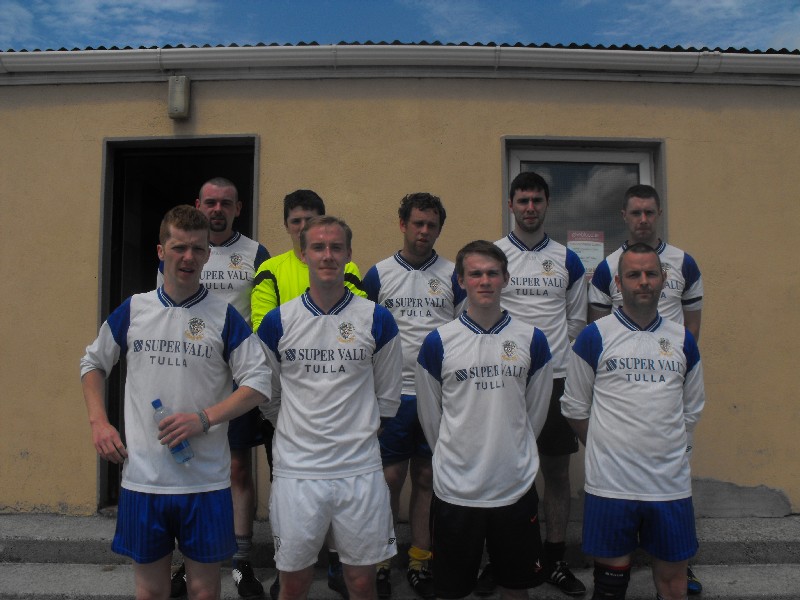 The afternoon group was equally competitive, with a good standard of football throughout. It began with Easton Cowboys – who travelled from Bristol to play – facing a youthful and talented Derg United. It took the Cowboys a while to get up to the pace, and United ended up clear winners. Following this East Clare Explorers played out a close match with Cider Babies which ended scoreless. The Cowboys were back on for the next game and were much improved. They faced last year's champions Clare Corinthians and the match was a close affair. It looked like the game would end in a draw, but the Corinthians scored a late winner. Derg United then faced a resolute Cider Babies and a close game ended in a draw. Clare Corinthians continued their winning ways with victory over East Clare Explorers in a keenly contested game.
The second half of the Group 2 games began with Cider Babies notching up a victory over Easton Cowboys – another game with a narrow margin. This was followed by a fiery encounter between Derg United and East Clare Explorers. Both teams were highly motivated, and referee Clive had to use all his experience to keep things on an even keel. The one goal of the game was scored by United. Cider Babies' final match was against the Corinthians, and both teams had to settle for a draw. This meant Cider Babies could finish no higher than third in the group. It's worth noting that Cider Babies – in the true spirit of the tournament – recruited two players they'd never met before the day, and still ended up one of only two teams unbeaten on the day… the other being the eventual champions.
The final two games of the group saw deciders at both ends of the table. The first of these saw Easton Cowboys play out a 1-1 draw with East Clare Explorers. Following this the group decider saw Derg United take on Clare Corinthians. Both teams had seven points going in to the match, but due to their superior goal difference a draw would see United top the group – for the Corinthians only a victory would do. The game was fast and furious, and saw several half-chances for both teams, but in the end was decided by a single goal scored by the Corinthians.
Group 2 Scores

Easton Cowboys

0

3

Derg United

Cider Babies

0

0

East Clare Explorers

Clare Corinthians

2

1

Easton Cowboys

Derg United

1

1

Cider Babies

East Clare Explorers

1

2

Clare Corinthians

Easton Cowboys

1

2

Cider Babies

Derg United

1

0

East Clare Explorers

Clare Corinthians

1

1

Cider Babies

Easton Cowboys

1

1

East Clare Explorers

Derg United

0

1

Clare Corinthians
Group 2 League Table

Pos
Teams
Pl
W
D
L
GF
GA
GD
Pnts

1

Clare Corinthians

4

3

1

0

6

3

3

10

2

Derg United

4

2

1

1

5

2

3

7

3

Cider Babies

4

1

3

0

4

3

1

6

4

East Clare Explorers

4

0

2

2

2

4

-2

2

5

Easton Cowboys

4

0

1

3

3

8

-5

1
Knockout Stages
The first semi final saw a repeat of last year's final, with Slippery Chickens taking on Clare Corinthians. Slippery Chickens used the pace of their team well, and looked strong on the break, but it was the Corinthians that broke the deadlock. Slippery Chickens were then dealt a blow when a key player landed awkwardly and had to retire from the game. There were no further goals, and so Clare Corinthians were the first team to book their place in the final. The second semi final saw Derg United take on a depleted East Clare Patriots, who had lost a couple of players. The Patriots were no match for United, who ran out easy winners.
The final, then, saw a replay of the Group 2 decider, and it proved to be an equally close game. There was a fascinating contrast between the two teams, with a skillful, pacy and youthful team taking on a much older, more experienced team – the average ages of the teams were probably 20 years apart. The game saw good chances for both teams, but both keepers excelled and the match ended scoreless. Thus, for the first time, the final was decided by a penalty shoot out. As the drama unfolded the Corinthians' keeper made a great save on one of the penalties. As all the other penalties had gone in it meant the final penalty for the Corinthians was the decider. This was duly dispatched, and so the trophy was won for the third year running by Clare Corinthians.
Knockout Stages

Slippery Chickens

0

1

Clare Corinthians

East Clare Patriots

0

3

Derg United

Clare Corinthians

0

0

Derg United

penalty shoot out

5

4
Acknowledgements
This enjoyable charity event could not have happened without several key contributions. Sincerest thanks go to:
Scarriff GAA Club for providing the venue
Referees Clive and Owen
Denise, for handling the admin on the day
Gill and Eve, for the delicious food and drinks
Lucas, for acting as ball boy
David and Holly, for photos, and help with the scoring
Sonia, for help tidying up
The Red Cross, for their expert medical care
…and of course all the players who made the event such a lively and enjoyable one!
See you next year…